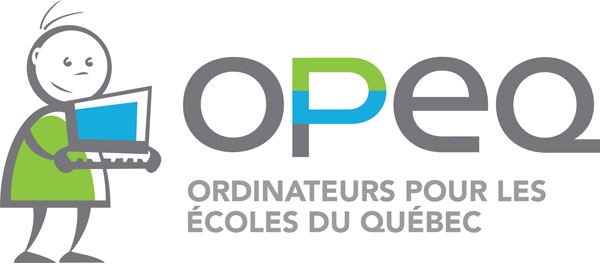 OPEQ CLIC program
Our mission:
OPEQ's mission is to provide high-performance computer equipment for free or at low cost to private and public schools, early childhood centres, non-profit organizations, and libraries in Quebec.
We recycle computer equipment that no longer meets the needs of private companies and government departments, transforming it into environmentally friendly equipment that's tailored to our customers' needs and requirements.
Program specifics:
Meant for low-income families (based on the Statistics Canada reference table).
Desktop computers!
Very affordable prices!
Requests must come from registered organizations or schools (applicants).
Applicants must agree to comply with the eligibility criteria for recipients.
Orders must be paid in full BEFORE delivery.
How it works:
Use the links below to make a request. In order to assign orders equally among the OPEQ workshops, make sure to choose the appropriate link:
For the Montreal, Laval, Laurentians, Lanaudière, and Outaouais administrative regions:
For all other administrative regions:
Complete the form with the required information on the recipient and the product. The cost of each computer ordered is indicated on the form.
Collect payment from individuals or provide funds to pay the official invoice (at the organization's discretion).
Send the form to OPEQ.
Send payment when you receive the official invoice.
After payment is received, the computers will be packaged individually and shipped to the applicant.
The applicant distributes the computers to the recipients.
Email: demande@opeq.qc.ca
---