Programs
An overview of Android tablets and smartphones
Tablets and phones help you make the most of the Internet, send and receive emails, browse the Web, use social media, take and view photos and videos, listen to music, read ebooks, play games, and more. And of course you can also send and receive phone calls on the phone.
Android and other devices
There is a difference between device manufacturers and operating systems. One manufacturer can make various devices that run different operating systems. The only exception to this rule is Apple, which uses only its proprietary operating system (OS). The features on all Android tablets and smartphones are relatively similar, with a few exceptions.
Apps and widgets
It seems like people are always talking about apps. But what is an app? "App" is short for "application" and is the word most used in the digital device world (e.g., touchscreen tablets, smartphones).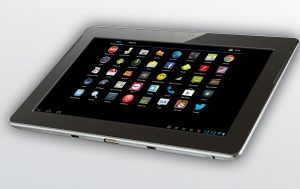 So an application, or an app, is a mini-program developed to accomplish a specific task on a device. For instance, you can use the Photos or Gallery app to look at the pictures stored on your tablet or phone. To use an app, simply press the shortcut. When you buy an Android device, certain apps come preinstalled and can't be removed. These are called native apps. But you're not limited to just the apps preinstalled on your device: You can download others (from among several hundred thousand free and pay apps) from Google's app store, Google Play.
Widgets are standalone apps that run directly from the home screen. Different types of widgets do different things. There are widgets for the weather, music players, alarm clocks, and more.
* Note that widgets are not available on all device models and versions.
Managing Location mode
To determine the geolocation of your device, you can enable the Location mode in the most frequently used Settings. Simply swipe down on your home screen once or twice and then touch the Location icon to turn the feature on or off.
Once the Location mode is enabled, some apps can respond to your requests based on your current location, and give you information about things in your area, provided the apps have permission to access your location (e.g., weather app). Your device does not store your past locations though.
On some devices, you can choose the level of accuracy of the Location mode. In high accuracy mode, your phone will use GPS, Wi-Fi, and cellular networks to determine your location. If you choose a different setting, the geolocation information provided by your apps may be less accurate.
Note: When Location mode is enabled, you can also find your device if it is lost or stolen.
---
FADOQ.ca workshops: Sign up today!
To learn more, register for the Tablettes et téléphones Android class offered by Ateliers FADOQ.ca. Contact your regional office to find out if the class is offered in your region. For detailed information on the class content, see the table of contents of the participant's workbook.