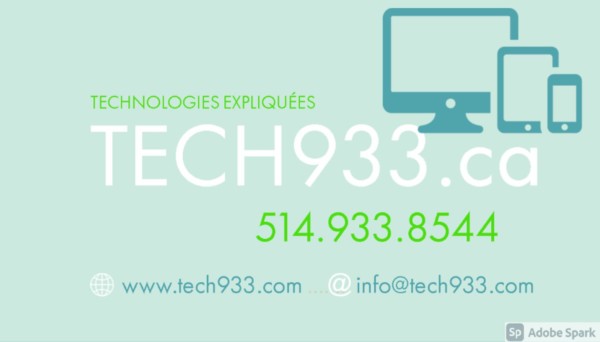 TECH933
10% discount on all IT, technical and educational services, applicable to virtual appointments lasting 60 minutes) and more.
We are pleased to offer technology services to adults and seniors interested in discovering or improving their technological knowledge. Our oldest client is an 88 year old retired lawyer.
TECH933 since 2009. Taking the sting out of technology, private and personalized technology assistance and training. Windows computers, tablets, smart phones and peripherals: cameras, printers, scanners, video cameras, etc..
Computer training: At-a-distance and in-person at your home or office, from beginner to intermediate levels. Introduction to computers, understanding applications, managing files and settings, problem solving tips, cyber security, online shopping, research, social media, audio-video editing, creating a blog or simple website.
---