Save 10% on all purchases of $50 or more made in store or online
If you're looking for a unique local gift, Arloca only carries objects that are designed and manufactured in Canada.
People are becoming increasingly aware of the social impact of their purchases. We believe it's important to promote local, ethical, and environmentally friendly shopping.
Whether you're shopping for yourself or for a gift, choosing items that uphold social values and are environmentally friendly and created with care makes you a partner in Canadian creativity and a responsible consumer.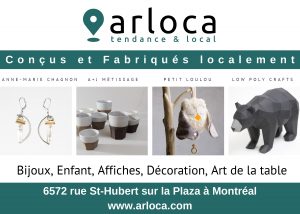 Our shop is located at 6572 rue St-Hubert in Montreal (2 min. from Metro Beaubien). You can obtain a unique promo code for our online store by sending your FADOQ membership number to info@arloca.com.
---
For more information
6572 rue St-Hubert
Montréal Québec H2S 2M3