MAC Creative Moments Workshop - $10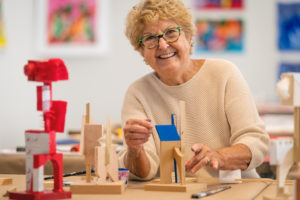 Interested in making art but never dared to try? Not enough space in your living room for creative pursuits?
Creative Moments is a Musée d'art contemporain de Montréal (MAC) program offering hands-on creative workshops for adults. No prior knowledge in artmaking is required for you to enjoy these enriching experience!
Guided by a team of art mediators, you will be encouraged to experiment with different aspects of the creative process. A new visual arts activity is offered every week. Subjects, themes, techniques and media vary.
Promotional rate: $10 instead of $15
Sign up today!
Visit the website
https://macm.org/en/activities/creative-moments-winter-and-spring-2023/?utm_source=FADOQ_Newsletter&utm_medium=email&utm_campaign=FADOQ_Newsletter_ang
Subscribe to the newsletter
https://macm.org/en/mac-online/
---
Pour informations
MAC
1 Place ville Marie
Montréal Québec H3B 3Y1