Save 10% on vacation camps.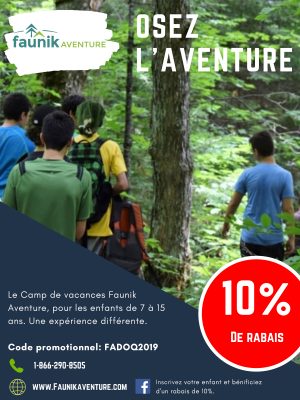 At Faunik AVENTURE, we are nature lovers, creators of unforgettable moments, and real fans of fun and life…
All of our camps are held in Quebec's national parks*. Youths age 8 to 17 from all over Quebec (as well as the rest of Canada, the United States, and even Europe) come to enjoy the greatest summer vacation of their lives! Tent camping and forest treks in some of Quebec's most beautiful natural spaces. But be forewarned: Our counselors and the Sépaq park rangers love what they do and their enthusiasm is contagious!
Our camp is certified by Association des camps du Québec (ACQ).
Promo Code:
FADOQ2019
---
For more information
faunik AVENTURE
54, boulevard Montcalm Sud
Candiac Québec J5R 4C7