Did you know ?
9 tips to prevent the harmful effects of heat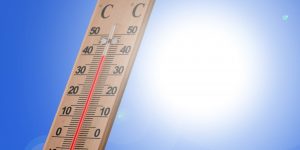 Overwhelming heat is defined as a temperature of 30 degrees or more and a humidex index that reaches or exceeds 40. When it's extremely hot, your health can deteriorate rapidly.
In addition to the symptoms associated with heat stress (cramps, fainting, etc.), intense heat can cause dehydration, hyperthermia, and heat stroke. In addition, heat can aggravate the condition of someone suffering from a health problem, especially if the problem is related to the cardiovascular, respiratory or renal systems.
Older people are particularly at risk of experiencing complications.
---
Prevent heat-related problems
There are a few precautions you can take to lower the risks, especially if your home has no air conditioning:
Drink lots of water; don't wait until you feel thirsty.
Avoid alcoholic drinks, which can intensify dehydration.
Close the curtains or blinds when the sun is out and open windows and doors only when it's cooler outside than inside (early morning and late evening).
Limit use of electrical appliances (oven, dryer, dishwasher, etc.).
Use LED light bulbs; they emit less heat.
Cool your skin regularly with a damp towel.
Minimize physical activity and wear light clothes.
Avoid exposure to the sun.
---
Monitor symptoms
9. Watch for symptoms of heat-related ailments such as:
Fainting;
Nausea and vomiting;
Headaches;
Extreme thirst;
Rapid breathing or heartbeat;
Less frequent urination with unusually dark yellow urine.
Do not hesitate to call Info-Santé at 811 or to consult a health professional.
If you (or your loved one) have one or more of the following symptoms, go to the emergency room or call 911:
Difficulty breathing;
Convulsions;
Signs of deteriorating state of consciousness (confusion, hallucinations, etc.) or loss of consciousness;
Apparent heatstroke.
Important!
Heatstroke is a medical emergency!