FADOQ members: go ahead, betray your age!
15. France Dion – 83
Active and Uninhibited
"Even if We're Old, We're Not Old!" As simple as that.
France Dion's voice proclaims her joie de vivre. At 83, the Magog woman frankly admits that in her mind she is only 14. She says she felt like a teenager when she took her road test to renew her driver's licence and her instructor kept telling her to slow down.
The octogenarian emanates energy and was named the 2015 Inspiring Elder of the Eastern Townships. And it was no accident, because she has plenty of projects.
At the moment, France Dion is working on adapting the educational game Auto-Correct-Art  that she developed with her husband in the 1970s—for seniors.
"Projects and more projects. That's what keeps the flame burning."
At 83, Ms. Dion still plays tennis every day, a sport she has loved since discovering it 20 years ago.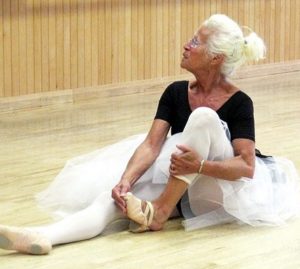 "My husband went away on a hunting trip. I remember telling him there was no way I was just going to sit around and do nothing," she laughs. "I bought a tennis racket, took lessons and practised a lot. I've sort of become the idol of all my girlfriends."
In recent years, she has also taken up tap dancing and ballet.
"I wanted to be more flexible, that's how I got into classical ballet," she says. At 75, I managed to get up on my toes. Before the pandemic, our dance troupe performed at 29 seniors centres.
Nothing stops her!
---
Souvenirs…