FADOQ members: go ahead, betray your age!
12. Jocelyne Simoneau – 76
Traveling Makes you Young
Jocelyne Simoneau is in the midst of preparing a trip to Japan that she hope to make next fall, pandemic permitting.
A lifelong globetrotter, the 76-year-old has taken at least one trip a year since retiring in 2011. More often than not, she travels alone, with her backpack, for about three months. In 2019, she visited Kyrgyzstan, Uzbekistan and Kazakhstan.
"I met a teacher in Kyrgyzstan who was happy to show his students that a woman can travel outside her country."
Some of her fondest memories are Kilimanjaro in 2014, Everest Base Camp in 2009 and the Inca Trail in Peru.
Her passion for travel was ignited at Expo 67, which, for her, was life-altering. Ever since, she has been eager to learn about other cultures. Born in Victoriaville, she considers herself lucky to have had parents who were open to the world. They sent her to Toronto and Boston to perfect her English.
"I've always loved seeing the world," says the 76-year-old. "When I worked as a nurse, I often took time off without pay to travel."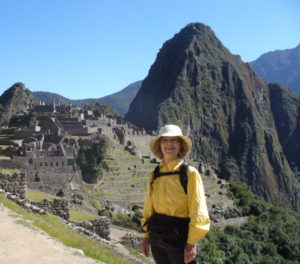 According to her, age is definitely not a barrier. Besides, she feels like she's 40 years old. Since reading an article about a 90-year-old woman's adventures visiting Antarctica, Jocelyne Simoneau's goal is to travel until that age.
"To avoid unpleasant surprises, I make sure to be well prepared. I know my itineraries in advance and I know where I'm going to sleep. There are always small changes along the way, but in general, I stick to my plan. I'm careful, I return to my hotel early."
Her secret: "I have a positive outlook and I've been eating healthy food for the past 50 years, no processed food."
---
D'autres souvenirs…