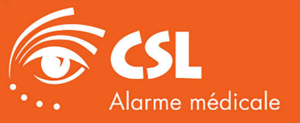 Protection CSL Medical Alert System
10% on monthly packages
Everyone deserves to live in security and maintain their independence.
Packages available
Residential basic (panic button bracelet or pendant): $22.50 per month
Residential+ (basic panic button coverage plus fall detector pendant): $31.50 per month
Mobility (panic button, mobile GPS and fall detector): $45.00 per month
Prices include the 10% discount for FADOQ members.
A medical alert system with a Protection CSL panic button lets you quickly get the help you need for a medical emergency, fall, or home intrusion.
When you press the panic button, the Protection CSL medical alert system instantly connects with the emergency intervention centre that is open 24 hours a day, 7 days a week.
When people can get help quickly, for example, after a fall, their chances of survival are doubled and the likelihood of going back to independent living are greatly increased.
Protection CSL medical alert system: confidence, reliability and peace of mind for you and your loved ones.
---
For information
Protection CSL Medical Alert System
Free delivery
1990, Jean-Talon street
Montréal Québec H2E 1T8