CELEBRATING 50 YEARS!
Long planned, FADOQ's 50th anniversary festivities were launched in January 2020. And there was something for everyone! But, in mid-March 2020, the health emergency took the wind out of the celebrations.
Postponements and cancellations
To say that the pandemic disrupted Réseau FADOQ's festivities is an understatement to say the least. All in-person events organized by the Réseau were postponed and then cancelled, including a private show of the Cirque du Soleil in May, 50th Congress in June and the FADOQ Games in September.
---
Stamp and coin with the image of FADOQ's founder
We celebrated Marie-Ange Bouchard, FADOQ's founder, in this anniversary year. A commemorative stamp was produced for the occasion and a stationery highlighting the 50th anniversary's official sponsors was printed up.

A boxed set of collector coins was made available for sale. It is still available. Get this box including a souvenir coin celebrating Marie-Ange Bouchard, founder of the Réseau FADOQ. Buy the collection set
---
Fiftysomething best wishes!
During this year of celebration, we published the greetings of personalities and partners who are associated with our history. It was a way to involve these individuals, organizations and companies in our landmark anniversary. Discover thoses messages (French only) 
---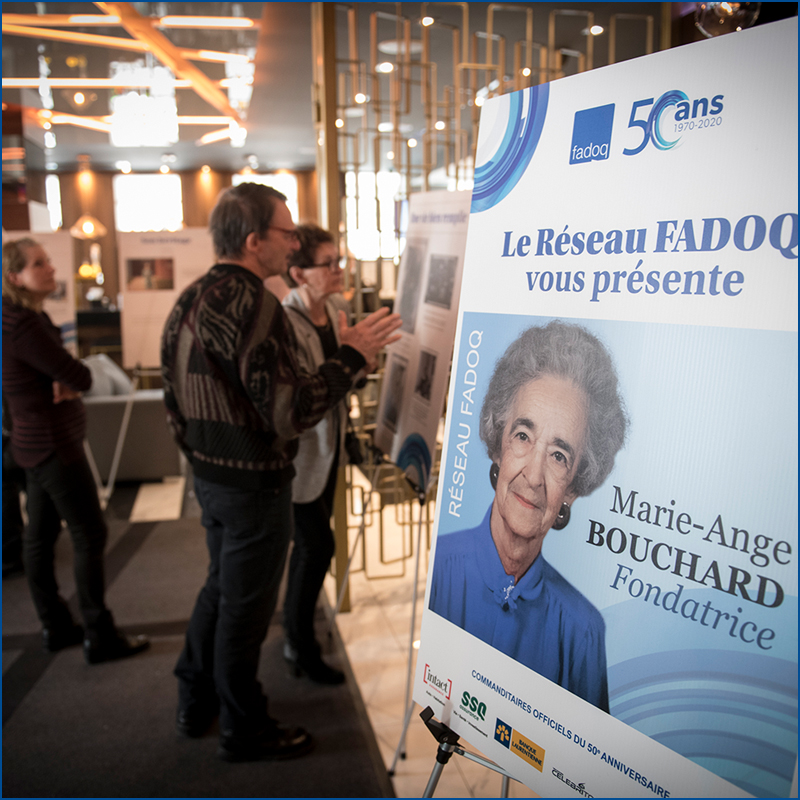 Marie-Ange Bouchard Exhibit
In February 2020, the Réseau inaugurated a travelling exhibition in memory of FADOQ's founder, composed of FADOQ archival photos and madame Bouchard's family photos. See the tribute
---
Many happy winners of the 50 Thank-you's contest
The 2020 membership renewal campaign featured a particularly generous contest with 649 prizes to thank the key actors in FADOQ's sustainability: its members!
---
It Was in the Year 1970 special edition
Virage's Spring 2020 issue, sporting a new look, showcased a gift to members: the special booklet It Was in the Year 1970, blending nostalgia and information on FADOQ's history.
---
50 years and 50,000 trees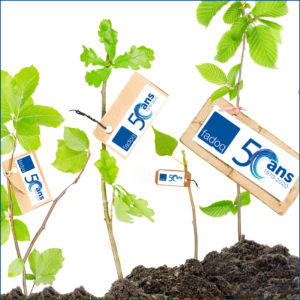 Meanwhile, and despite the health crisis, the Réseau made a symbolic gesture. As part of FADOQ's 50th anniversary, 500 trees were planted in May 2020 in Saint-Jean-sur-Richelieu, where FADOQ was born half a century ago. As well, nearly 50,000 more trees were planted in various developing countries to help the Earth breathe easier, in a concrete action by the Réseau for the benefit of future generations. Read the news
---
Once upon a time, FADOQ…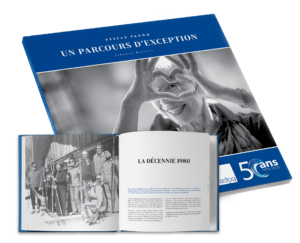 Lastly, the pandemic did not affect a project dear to the Réseau to mark FADOQ's 50th anniversary: publication of the book Réseau FADOQ – Un parcours d'exception.This book tells the fascinating story of our organization, from the moment its founder, Marie-Ange Bouchard, had the idea of creating the first Golden Age club to address the loneliness and boredom suffered by so many seniors.
This souvenir book bears witness to the spectacular evolution of the FADOQ network, highlights its 10 greatest achievements over the years and includes the history of FADOQ's 16 regional groups. Like the 50th anniversary commemorative coin, the 50th anniversary book is sold online.  Buy this book (French only)