Finally! Réseau FADOQ applauds measure to lower contributions for many residents of long-term care homes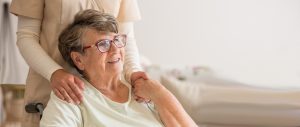 The cost of a spot in a CHSLD will finally go down for many residents, as Réseau FADOQ has been urging for some time now.
The Minister Responsible for Seniors and Informal Caregivers, Marguerite Blais, and the Minister of Health and Social Services, Christian Dubé, announced that new criteria for calculating how much adults living in long-term care centres have to pay will go into effect on January 1.
In its pre-budget brief (in French) presented last January, Réseau FADOQ urged the Legault administration to review the asset requirements in calculating contributions, which had not been done since 1983.
This aberration created inequities and left many seniors in dramatic circumstances, some, for example, being forced to divorce their spouse in a CHSLD to salvage their disappearing RRIF.
The value of the assets that determine whether a resident's financial contribution can be reduced or waived will be reviewed. Currently someone is ineligible for the program if their car is worth more than $4,000 or their property more than $40,000, or if the total value of their possessions and liquid assets is greater than $1,500, or $2,500 for a family. These amounts will be updated to $10,000 for a car, $226,195 for a house, and $2,500 for possessions and liquid assets for a single person or $5,000 for a family.
Long overdue
Another change being put in place is that certain government benefits and any RRSPs accrued before age 65 will no longer be considered in the calculation of liquid assets.
"It was long overdue for the government to review these criteria. Resident contributions were going up, but fewer and fewer people were able to access the exemption program because the amounts hadn't been updated in nearly 40 years. It didn't make any sense," said Gisèle Tassé-Goodman, Réseau FADOQ chair.
Annual indexation please!
The largest seniors organization in Canada is now hoping that the amounts considered in calculating the financial contribution of adults in long-term care homes will be indexed every year.
"We have to do it if we want to avoid ending up in the same cruel situation a few years down the road," said Ms. Tassé-Goodman.
Réseau FADOQ is not the only organization decrying this situation. The Ombudsman criticized it in 2014 in a brief presented to the Committee on Health and Social Services. François Paradis, the current president of Quebec's National Assembly, did the same in his critiques of health policy as part of the opposition.
The government estimates the cost of these measures at $16 million.
Source: Réseau FADOQ