Did you know ?
Magnificent Côte-Nord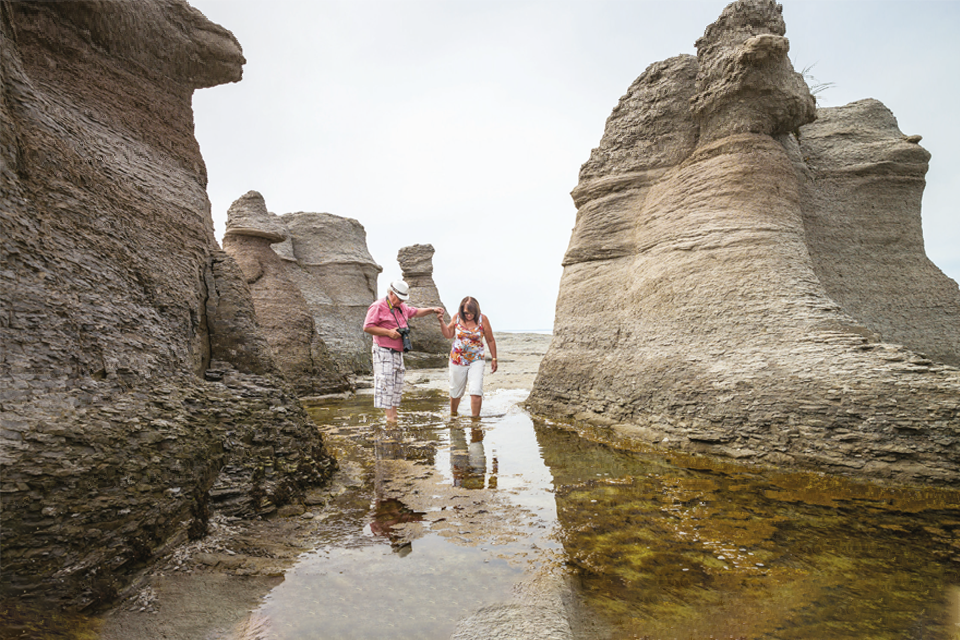 Of course, you can visit the Côte-Nord (North Shore) by following the road until it stops just past Natashquan. Then, check it off your travel list and come straight back. But it's so much better to take your time, and exit route 138 whenever a village or landscape beckons.
That's exactly what I did, when I took a week to explore the area between Baie-Comeau and Havre-Saint-Pierre. While I didn't have enough time to see everything, I came back filled with visions of grandiose horizons and memories of unforgettable activities, fascinating encounters and feast upon feast of glorious seafood!
When I set out, I knew that the river that is really the sea would be my constant companion, bordered by its rocky lacework shoreline. But the beaches were nothing like the pebble strewn expanses I had imagined. The fine white sand drew me countless times for a picnic or long walk and a few times I was enthralled by the presence of a playful seal or majestic whale.
Monumental monoliths
As for so many other visitors, for me, the monoliths dotting the Mingan Archipelago were a must. Since these blocks of glacier-sculpted limestone cannot be seen from the highway, I boarded a boat operated by Excursions du Phare. On Île Nue, everyone was invited to identify an animal or person in the oddly shaped monoliths. One of them looked to me like the inspiration for the Marge Simpson cartoon character!
At the end of the dock, the captain proposed a tasting of fresh sea urchin, then demonstrated how to catch them with a mop! Next on the itinerary, Perroquets Island, where a Parks Canada guide presented the history of this lighthouse station that is now an inn. During the trip, we admired dozens of pretty little penguins—actually puffins—in flight and interrupted some 30 grey seals sunning on a rocky point in this archipelago comprising 1,000 islands and islets.
Explore . . .
If the only tip you get is to take your time instead of burning up the kilometres, you'll have the key to countless discoveries. These were mine:
Pointe-aux-Outardes Nature Park (near Baie-Comeau)
Don't forget your binoculars: as you trek from one ecosystem to another you will encounter a multitude of different bird species. Additional attractions: fine sandy beach, bird garden, the warm water of the tidal flats and spectacular giant birdhouse glamping cabins.
Grande Basque Island (Sept-Îles)
From the port, it's a short crossing to the closest island in the archipelago which numbers—you guessed it—seven. There are 12km of walking trails (take the ones leading to Pointe Sud), beautiful sandy bays, 18 campsites and activities with guides/naturalists.
The Old Fur Trading Post and the Shaputuan Museum (Sept-Îles)
The splendid facilities of the Old Trading Post house a fur trading counter. You'll learn that beaver pelts were the most sought after furs of the period because in the "old country" they were transformed into felt for top hats. A kilometre further in the Shaputuan Museum, follow the Innu people through their seasonal cycle of traditional activities, accompanied by a guide, artefacts and a 360º display of projected images. It was fascinating, but I was also left with sorrow about the injustices they have suffered.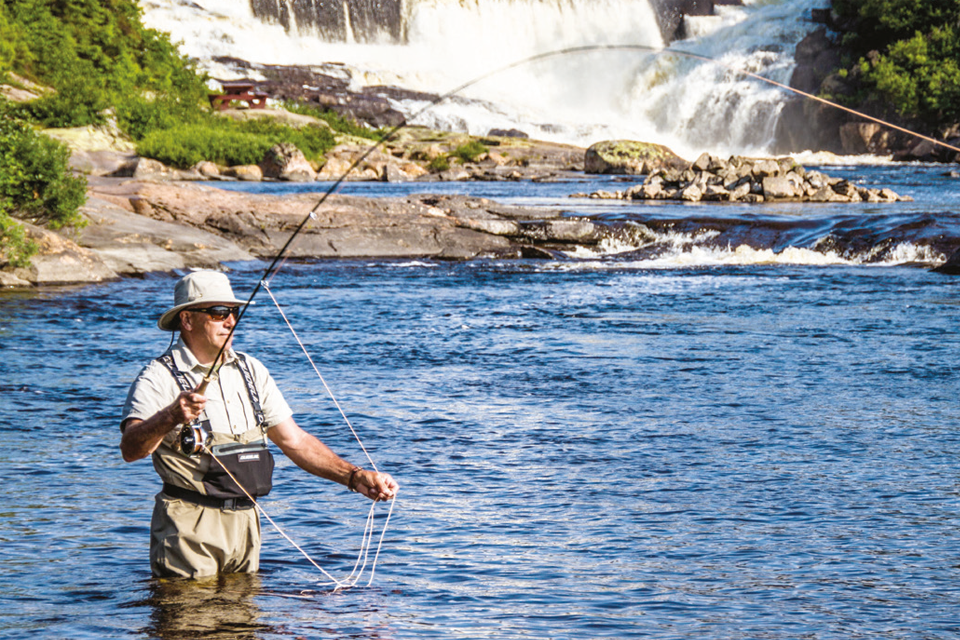 Port-Cartier
It would be almost criminal to pass through without stopping to see the magnificent Rivière aux Rochers, especially if you go between mid- June and July 20, when, at the foot of the falls, you'll see fishermen in action with the large salmon. At the Salmon Interpretation Centre, you can learn more about the king of the rivers.
Réserve faunique de Port-Cartier – Sept-Îles
This fishing paradise boasts some 2,000 lakes! Lake Walker is the most popular, as Québec's deepest lake and home to a fisherman's dream, the speckled trout. You can take your RV, set up your tent or rent a cottage.
Manitou Falls and Magpie
At Manitou Falls (between Sept-Îles and Rivière-au-Tonnerre), a short walk features fabulous lookouts on the falls. In Magpie, 40 km before Mingan, climb to the top of the belvedere where you'll find a quiet trail overlooking the Gulf of St. Lawrence.
Kayaking in the bay of the Romaine River (Longue-Pointe-de-Mingan)
With Noryak Aventures, on a brilliant calm day, I embarked a one-day group expedition from the river mouth to the sea. Seals and arctic terns were on the agenda as was a stop on land for a typical Mingan lunch prepared by our guide Camy-Anne.
Other highlights: the Phare de Pointe-des-Monts, Rivière-au-Tonnerre, snorkelling near Saint-Pancrace Bay (attitudenordique.com), the Interpretation Centre at the Mingan Islands Research Station, and so much more.
Crédits photos:
Parks Canada – Éric Lajeunesse (Mingan Archipelago)
Ville de Port-Cartier – Jordan Bélanger (Fisherman)
Yves Thomas (Kayaking)
Source: Sophie Gagnon - Magazine Virage