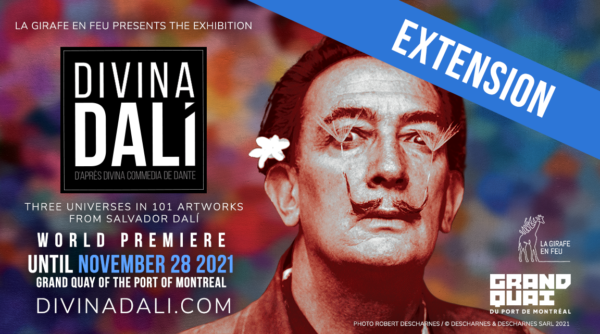 3$ discount when you buy your ticket online*
La Girafe en feu presents the Exhibition DIVINA DALI – 3 Universes in 101 artworks by Salvador Dali at The Grand Quay of Port of Montréal – extended to November 28th.
The exhibition DIVINA DALĺ invites you to discover the imaginary universe of Dante's Divina Commedia illustrated by the Great Master of Surrealism, Salvador Dalí. Come experience a more intimate Dalí in 101 authentic artworks as he travels through the dimensions of Hell, Purgatory and Paradise…culminating in the discovery of a monumental art piece from 1945 never exhibited to this day!
*With proof of FADOQ card at the entrance.
You must provide your member number to take advantage of this discount
To take advantage of this discount:
---
Pour informations
Grand Quai du Port de Montréal
200 rue de la Commune Ouest
Montréal Québec