A positive budget, despite some concerns
Réseau FADOQ notes several positive elements in the Québec government's budget, but deplores the failure to adopt measures on intensive home care teams and the Quebec Pension Plan.
The government will continue to increase funding for home support services, which is positive, because the majority of Quebecers want to age at home. This represents an additional investment of one billion dollars by 2028.
"We welcome these investments. However, Réseau FADOQ believes that the government will have to intensify its efforts over the next few years since funding for long-term home care for seniors in Québec is well below the OECD member countries' average of 1.7% of GDP," said Réseau FADOQ president Gisèle Tassé-Goodman.
Furthermore, the budget plan does not address intensive home care teams (known by the French acronym SIAD), which prioritize patients with severe loss of mobility and those at the end of life. At a time when the state of palliative care in Quebec is in question, investments to deploy these teams would have been timely.
Measures for experienced workers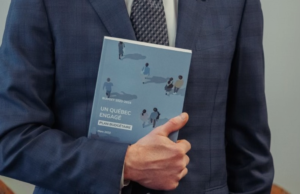 Regarding the Quebec Pension Plan (QPP), Réseau FADOQ was pleased to note that Finance Minister Eric Girard's thinking has evolved, as he has shelved plans to raise the minimum age of eligibility for a retirement pension and increase the penalties for retiring before 65.
Québec's largest seniors' organization welcomes measures that will affect experienced workers: optional QPP contributions starting at age 65 for people who are already drawing their pension, and the introduction of a pension protection mechanism for income earned after age 65. Combined with the tax cut, these measures will put more income in the pockets of experienced workers.
Unfortunately, some of the measures we proposed, such as increasing the death benefit, were not adopted. The Réseau recommended doubling it and indexing it annually.
Quebec has also announced that it wants to introduce an automatic adjustment mechanism for the QPP supplementary plan, modelled on the Canadian pension plan. For example, in the event of economic challenges, benefits could be reduced or not indexed.
Réseau FADOQ supported the introduction of the same mechanism as the basic QPP plan, which provides for an increase in employer/employee contributions to promote equitable sharing of the plan's financial risk.
Shingles: a step in the right direction
On the occasion of the budget the Québec government announced that a segment of the population will be provided free access to the shingles vaccination. Money will be allocated to vaccinate 800,000 people over the next five years, primarily immunosuppressed people and people aged 80 or older. Although Réseau FADOQ is aiming for free vaccinations starting at 65, this is a step in the right direction.
Source: Réseau FADOQ