Pedestrians: stay safe when walking
The City of Montreal recently adopted the Vision Zero approach and has implemented actions geared toward safe mobility.
Whether we are circulating as pedestrians, cyclists or drivers, we are all called upon to assume our share of responsibility during pedestrian interactions.
Seniors are more at risk of being victims of a serious or fatal accident during pedestrian movements.
With age, some of our physical, sensory and cognitive capacities decrease and can affect our movements:
o             Muscle strength
o             Balance
o             Reaction time (reflexes)
o             Vision
o             Hearing
Other factors that can influence our security are:
o             Obstacles (difference in height of sidewalks or the street)
o             The distance to be travelled
o             Assessing the speed of a car
o             Visibility
o             Weather
Some facts:
Since the start of 2019, 15 pedestrians have died in collisions. Of these, 10 were aged 65 and over.
In addition to fatal collisions, seniors are often more seriously injured in accidents than younger individuals.
A pedestrian is just as likely to be ticketed as a motorist.
Some good practices to consider when travelling on foot:
Observe your environment and take into account your capacities.
When you arrive at an intersection, it's essential to respect certain rules:
o             Spot trucks, buses and cars and check their turn signals to see where they want to go—also watch out for motorcycles, bicycles and scooters.
o             Avoid being in the blind spots of a heavy vehicle.
o             Make eye contact with the driver of any vehicle to make sure he has seen you before crossing.
When you're walking, have you made sure you're visible at all times? Have you made eye contact with the driver of the vehicle to make sure he has seen you before crossing? If in doubt, let it pass!
Do you always look left, right, then left again before crossing a street?
Do you only cross at intersections or places authorized by appropriate road signs (pedestrian crossings)?
Are you sure you understand how the pedestrian lights and stop signals work?
Are you walking on the sidewalk and, if there is none, are you walking on the shoulder or on the edge of the street, in the opposite direction of traffic?
Even if you know and it may seem obvious, on the island of Montreal, turning right at a red light is prohibited everywhere. However, that doesn't mean that you don't have to check that the way is clear before crossing.
Blind spots, deadly spots … especially on foot! Do you know exactly what a vehicle's blind spot is?
The Vision Zero approach is a philosophy adopted by Sweden in 1997. Established in several large metropolises around the world, this approach rests on a basic principle according to which "it is unacceptable that people are killed or seriously injured when they are walking on our roads. "
https://ville.montreal.qc.ca/visionzero/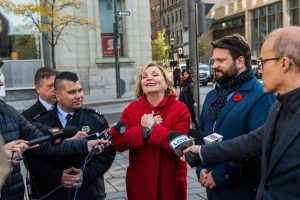 France Castel surrounded by Eric Alan Caldwell of the City of Montreal and Eric Soumpholphady, commander of the SPVM during the launch of the Vision Zéro campaign.
Source: FADOQ - Région Île de Montréal