Why join FADOQ?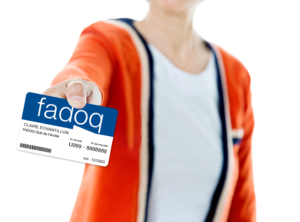 Get a ton of benefits by joining Réseau FADOQ or renewing your membership card!
Your FADOQ card means savings! Take full advantage!
You'll save big with Réseau FADOQ's partnerships. Your card gives you access to over 1,500 discounts on insurance, financial, travel, healthcare, and leisure products and services. Plus you'll receive four issues of Virage (French only) per year.
Enjoy a wide range of leisure activities with the FADOQ card
Réseau FADOQ offers leisure, sports, and cultural activities for everyone, including bicycle excursions, golf, travel, computer classes, hockey, tennis, walks, tal../activitesks, and exhibitions. It's all about maintaining an active lifestyle.
Your membership helps our cause: Quality of life
Joining FADOQ is also an act of solidarity—you'll increase Réseau FADOQ's influence and help it advocate for seniors' rights. You'll invest in quality of life for yourself and all seniors!
There are plenty of good reasons to join Réseau FADOQ – Région Mauricie.
In addition to helping the network advocate for seniors' rights and improve and maintain quality of life for people age 50 and over, you get access to a range of leisure activities for everyone.
You get discounts and benefits on exclusive services and products, plus you'll receive four issues per year of Virage, Quebec's top magazine for people age 50 and over. Each issue comes with an Exclusivité Mauricie brochure, which contains the best leisure activities for people age 50 and over in the Mauricie region.
Visit our offices at 1325, rue Brébeuf in Trois-Rivières.
Call us at 819 374-5774 to get a membership form by mail.
Join online by clicking the "Join today" button at the top of the page.