Care and services for seniors: always the same sad situation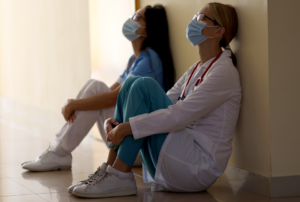 The Health and Welfare Commissioner's (HWC) preliminary report on the performance of care and services for seniors in the context of the Covid-19 pandemic has a Groundhog Day effect. Public knowledge for a long time, the report' findings echo what Réseau FADOQ has been denouncing for many years.
At the heart of the matter: human resources
Among the highlights of the preliminary report are the shortcomings related to human resources, which have been reported ad nauseam for at least 20 years, notably by the Québec Ombudsman. In this regard, the Health and Welfare Commissioner affirms that action is required on higher education, the professional associations and immigration.
Réseau FADOQ has long decried some of these situations. In our view, the main solution is to change professional care-to-patient ratios, which will make the health professions more attractive and limit mandatory overtime. Our organization is also pressing for larger cohorts of students in areas of great need.
Another of FADOQ's oft-repeated requests to address the labour shortage is to speed up the pace of health care decompartmentalization.  The promising developments we have seen with dental hygienists, nurse practitioners and pharmacists must continue.
The Réseau has also suggested that experienced workers be brought in by providing tax incentives to encourage their retention and return to work.
Another issue: continuum of care
The HWC report also highlights the negative impact of fragmenting the continuum of care. Seniors receive care and services from various providers, some in the public health system and others from employment agencies and social economy enterprises that provide home care. Many seniors are also forced to use private resources, for example in private seniors' residences, since the public network does not offer enough.
In this regard, the Réseau is urging fast action to increase the supply of home care and services so that seniors are not forced to choose private resources. Additional residential spaces must also be made available for seniors.
The Réseau recognizes that investments are underway to address some of the problem, including the construction of "Maisons d'aînés" (seniors' homes). In the meantime, FADOQ is asking the government to ensure the quality of services offered under private sector agreements.
Final report due in December
We look forward to the Health and Welfare Commissioner's final report, which will be released in December. But most of all, we impatiently await the government's expeditious response after acknowledging the findings of this report. History must finally stop repeating itself.
Source: Réseau FADOQ