2022 Provincial Elections
Taking action for seniors today and tomorrow
The population of Quebec will be called to the polls on October 3 to elect 125 provincial members of parliament. The 2022 election marks a turning point in ensuring that today's and tomorrow's seniors age with dignity and respect.
Réseau FADOQ presents its advocacy platform and a video to put forward our demands to the candidates and citizens. The political parties will be able to make their ideas known during our French electoral debate, which will be broadcast live on Facebook on September 8.
Politicians must use this election campaign to focus on issues affecting seniors. Together, let's act now to build a society where it's good to grow older.
A platform to put forward our demands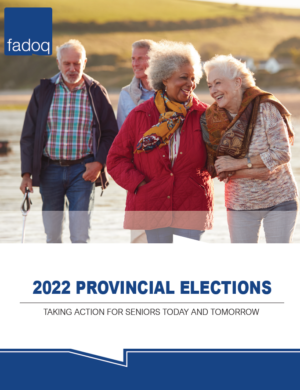 Our platform presents our demands, which are divided into four sections: health, experienced workers, protecting rights and taxes. For each of these themes, the priorities of our organization are listed.
Click here to view our election platform.
For a more detailed version of our platform (in French only), you can view the long version by clicking here.
A video to explain our demands
We have prepared a narrated video (in French) that summarizes our demands in two minutes.
We invite you to share it as often as possible because the issues affecting seniors must take an important place in the election campaign.
A FADOQ debate
Réseau FADOQ will organize an electoral debate with candidates of the five political parties represented when the parliament was dissolved.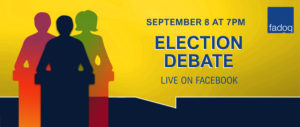 This French debate will take place on Thursday, September 8, at 7 p.m. and will be broadcast live on our Facebook page.
Topics will include health care, experienced workers, protecting rights and taxes. There will also be questions from the audience.
Source: Réseau FADOQ