Complexe Laudance
Complexe Laudance is the perfect place to enjoy a peaceful retirement.
It's located in the heart of Campanile in Quebec City's Ste-Foy neighbourhood, where nature meets the city.
Ideal for active older adults looking for a peaceful place to live, the complex offers a wide range of services and organized recreational activities throughout the year.
A variety of comfortable apartments are available for rent and all of them have an emergency button that connects directly to the nursing station. A nurse is on hand 24/7 to guarantee your peace of mind.
You'll enjoy a wide variety of amenities and services, including the 24/7 nursing station, a free weekly shuttle service between the complex and the Laurier Quebec shopping mall, and common areas, including a library, chapel, billiards room, community room, indoor pool, hair salon, restaurant, and much more!
$500.00* discount when you sign a lease.
Please indicate that you will be taking advantage of this promotion.
*Some conditions apply.
You must show a valid FADOQ membership card.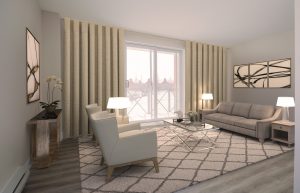 ---
For more information
Complexe Laudance
850, rue Laudance, Suite 100
Québec Québec G1X 4P1