Allen Madelin Lawyers
This consultation is confidential and requires no obligation on your part. It does not include a face-to-face meeting at our office, analysis of documents, any draft of documents, or legal or case law research if your question is complex.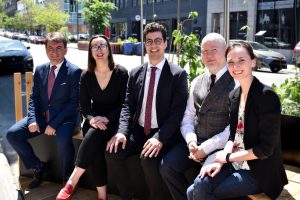 Allen Madelin law firm is a "Boutique" law firm located on boul. Saint-Laurent, in Montreal. We take care of civil law cases, such as family law, personal law, civil liability, etc… situations.
Please note that our areas of specialization include inheritance law and senior law. More specifically, our lawyers can help you contest a will that does not reflect the testator's last wishes. We can also act in cases where there are disagreements between heirs or liquidators. If you want to institute a protective regime such as curatorship, tutorship or a mandate in case of incapacity, we are the lawyers for you.
Contact us by phone at (514) -904-4017 or at info@amlex.ca.
---
For more information
4621, boul. Saint-Laurent
Montréal Québec H2T 1R2