FADOQ members: go ahead, betray your age!
3. Guy Giard – 62
Laughter in Life
Guy Giard's life is anything but ordinary.
A storyteller, he taught for twenty years in museums before becoming a lecturer. In all of his presentations humour was the constant thread.
"I've always adored making people laugh," he says. "I find that humour is a wonderful means of communication. It has completely transformed me."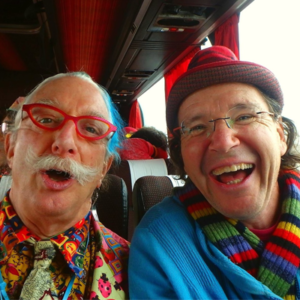 At the age of 55, Guy Giard became a laughter yoga teacher and humanitarian clown. He met the one and only Patch Adams, with whom he traveled to hospitals and orphanages on three continents.
"Let's just say that that kind of experience keeps you young!"
Later, tired of being confined during the pandemic, Guy Giard started to run, with no specific goal in mind—just like Forrest Gump. Now, at 62, he runs everyday.
"It's become a real passion. In the end, the lockdown was a motivation for me to do something. It sounds weird, but I'm grateful for the lockdown."
Guy Giard has this piece of advice to share: 
"Be daring, go a little wild, be curious, trust yourself and tell yourself, why not try it!"
---
D'autres souvenirs…