Membres FADOQ : allez-y, trahissez votre âge!
Sylvie Maltais – 55
At top speed
It was while watching her children practice short track speed skating that Sylvie Maltais was overcome with an irrepressible urge. Sitting in the stands, the thought of being on the ice would not let her alone.
"It looked like so much fun," she remembers.
After thinking about it, she decided to take up this very technical and challenging sport. Now 55, Sylvie Maltais feels that she has literally fallen in love with it and hopes to continue skating as long as her health permits.
"My secret is that I love to work out. I ride my bike and I do weight training four or five times a week."
A fan of speed, the 50-year-old admits she loves playing in traffic.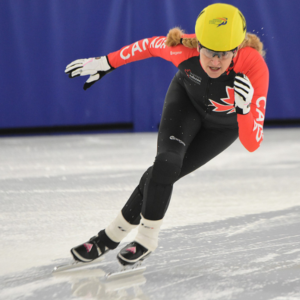 "I love the competitive dimension of short-track speed skating. I like to compete against rivals and do my best to come in first at the finish line," she says.
Since she began her career ten years ago, Sylvie Maltais has won many honors in the 16 and Over Mixed College/University category in which Masters are invited to participate. In 2018, she went to the Masters International Short Track Games in Melbourne, Australia where she finished first in the 500 meter event. In January 2020, in Innsbruck, she took gold at the Winter World Masters Games and hopes to do it again in Italy in 2024.
---
D'autres souvenirs…