Way back on June 16, 1970…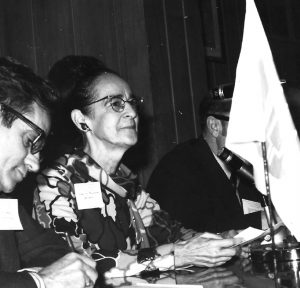 Fifty years ago today, on June 16, 1970, the Quebec government granted Fédération de l'Âge d'Or du Québec a provincial charter under the Companies Act.
This was a pivotal moment for FADOQ—the day a unique social project was launched. Its mission was to serve all seniors, regardless of race, religion, or language. Half a century later, the movement created by a social worker named Marie-Ange Bouchard is more deeply rooted than ever before and is a key defender of the collective rights of seniors and an ardent promoter of the benefits of active aging. Its efforts have resulted in significant gains to improve the quality of life of people aged 50 and over. When it's time to get your own membership card, you'll see that the purpose of the largest seniors' group in the country is just as relevant as ever.
Réseau FADOQ was supposed to celebrate its rich history in 2020, but the COVID-19 pandemic has thwarted some of our plans and disrupted many events, including the 50th anniversary celebrations. In accordance with government directives and in order not to tarnish such a significant moment in its history, Réseau FADOQ has decided to celebrate its 50th anniversary when it turns 51 in 2021!
The FADOQ conference initially scheduled for June 16 to 18, 2020, in La Malbaie will take place in the same location as planned, but from June 14 to 16 next year.
The launch of a book about Réseau FADOQ's 50-year history, which was also part of the conference's 2020 program, will take place at a later date. And what about Réseau FADOQ's 2019–2020 annual general meeting? For the time being, and provided that the Quebec government allows gatherings to be held on that date, Réseau FADOQ plans to hold a smaller-than-usual conference and its annual general meeting from September 8 to 10 in Saint-Hyacinthe. This was the time and location of the provincial finals of the 2020 FADOQ Games, which were cancelled. The 29th FADOQ Games will instead take place in the Eastern Townships from September 21 to 23, 2021.
At the circus in May 2021
Another highly anticipated event was the FADOQ – Cirque du Soleil private party sponsored by Laurentian Bank, scheduled for May 20. The performance of Under the Same Sky has been postponed to May 20, 2021.
In addition, the coin set featuring Réseau FADOQ and its founder, Marie-Ange Bouchard, made available thanks to sponsors Intact Insurance and SSQ Insurance, is still for sale at fadoq.ca.
The Thank You 50 Times! renewal contest is still in full swing, with 650 possible lucky winners in all.
Source: Réseau FADOQ