The countdown has begun for the Canada 55+ Games 2024 in Québec City
With 11 months to go before the start of the Canada 55+ Games 2024 in Quebec City, presented for the first time in Quebec, the organizing committee launched the activities leading up to the event, at a press conference, in Quebec City, on Wednesday.
"It's a great source of pride and pleasure to be able to welcome over 2,500 people to Quebec City for this major competition. These Games are further proof that there's no age limit for excelling," said Réseau FADOQ President Gisèle Tassé-Goodman.
The Canada 55+ Games 2024, organized by Réseau FADOQ in collaboration with the Québec City and Chaudière-Appalaches FADOQ regions and the Ville de Québec, have also put their website online, with all the relevant information for athletes and the public.
The organizing committee also announced at the press conference that internationally renowned Canadian Olympic athlete Pierre Harvey is joining the venture as ambassador.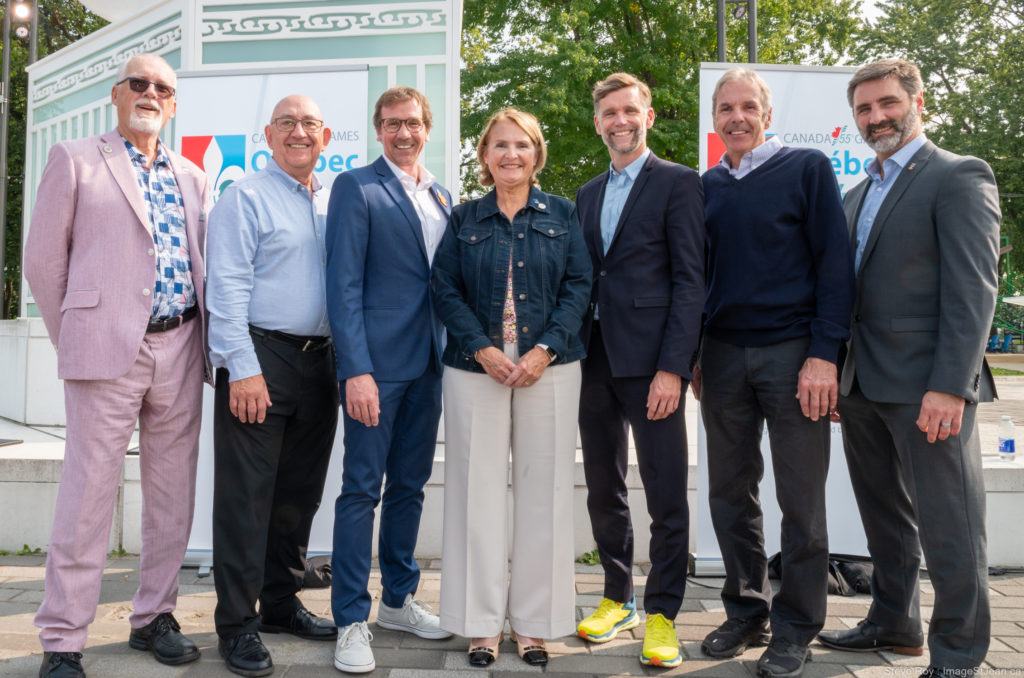 Quebec City is an ideal location to host athletes from all over Canada, thanks to its unparalleled sports and recreational facilities, as well as its incomparable charm. The event will generate significant economic and tourism benefits for Quebec City.
"It's truly a pleasure to be hosting the Canada 55+ Games 2024 for the first time in Quebec. During their visit, everyone will be able to see for themselves just how welcoming and inclusive Quebec City is, with a focus on social participation for every generation. I sincerely thank the entire Games organizing team for choosing Quebec City," says Quebec City Mayor Bruno Marchand.
It will also be a province-wide event, with athletes from all over Quebec representing the fleur de lys in competition. The competitions takes place from August 27 to 30, 2024.
"Being active means healthy aging and maintaining a healthy lifestyle, but above all, it's good for your mental wellness. Events like the Canada 55+ Games not only get seniors moving, they also help to break down isolation. Good luck to the 2,500 athletes who will be converging on Quebec City," said Yannick Gagnon, Member of the National Assembly for Jonquière and government assistant to the Minister responsible for Sports, Recreation and Outdoors.
Created in 1996, the Canada 55+ Games will be held in Quebec for the first time. Twenty disciplines will be presented at this 13th edition, including tennis, ice hockey, swimming, pickleball, track and field, bowling, crible, 8 ball-pool and slo-pitch.
An informative and efficient website
To find out more about the competitions, the events surrounding the Games, the process for registering in any of the disciplines or simply for information, the Canada 55+ Games organizing committee has set up a comprehensive website. The registration process differs from province to province. This information is not available on the 2024 website. To obtain this information, athletes should contact their provincial representative. For Quebec, they can consult the Réseau FADOQ website.
Varied disciplines
Athletes from across Canada will be able to compete in the 20 disciplines below.
| | | | |
| --- | --- | --- | --- |
| Badminton | Crible | Pickleball | Shuffleboard |
| 8 ball-pool | Curling | Run 5 km and 10 km | Swimming |
| Bowling Duckpin | Darts | Sandbag baseball | Track and field |
| Bridge contract | Golf | Scrabble | Tennis |
| Duplicata bridge | Hockey | Slo-pitch | Table tennis |
Competition sites throughout Quebec City
Several Quebec City sports venues and facilities will be in the spotlight.
Le Centre de foires
Université Laval's PEPS centre
The Intact Assurance Centre de glaces
Several parks operated by the Ville de Québec
Source: Réseau FADOQ