Did you know ?
On a quest for Québec's hidden treasures
Planning your summer holiday? Looking for something that suits your love of the outdoors, reflective nature and curiosity? Here are 9 lesser-known tourist treasures in the Belle Province. Because of you know what, confirm that attractions are open before heading there and buy tickets in advance if necessary.
By Stéphane Desjardins and Sophie Gagnon
Abitibi-Témiscamingue
Exploring Indigenous culture
kinawit.ca, 819 825-6855
The Joyce Echaquan tragedy was just one more reminder of the importance of building bridges with Indigenous culture. A modern and authentic presentation of Anicinabe history and their traditional and contemporary knowledge makes a visit to Kinawit a must. Created by the Centre d'amitié autochtone de Val-D'Or in 2012, Kinawit is located 12 km outside of Val-d'Or.
Activities include workshops on fish smoking, bannock (bread) baking, an introduction to different craft techniques, tales and legends around the fire, a hike in the forest to learn about plants and their benefits, kayaking on Lake Lemoine, a guided tour, permanent exhibition, powwow and other special activities. The choice is yours!
And, to prolong the pleasure, there is lodging on site, in a teepee or rustic camp.Open from the summer solstice to mid-September.
Bas-Saint-Laurent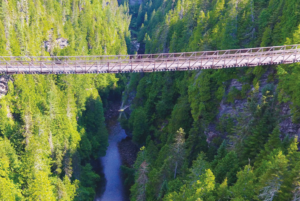 A corner of paradise: Hell's Gate canyon
canyonportesenfer.qc.ca, 418 735-5222
A multi-kilometer walking trail network gives visitors access to a deep 5 km canyon crossed by the highest suspended footbridge in Québec (63 m). Evenings are illuminated by a sound and light show in the middle of the forest. A good reason to set your sights on Saint- Narcisse-de-Rimouski.
Estrie
How about a spa crawl?
easterntownships.org, 1 800 355-5755
If there was such a thing as a "spa trail," it would start in Estrie, where the spas are as varied as they are exceptional. Imagine a whole week, featuring three or four visits to different health spas. In between: car rides in the majestic countryside and stops to enjoy fine local foods.
A great plan for a break during this unending pandemic. Unusual treatments await you on your quest for relaxation, including a mud body wrap for couples at the Euro-Spa in Saint-Ignace-de-Stanbridge, Russian sauna at Spa Nordic Station in Magog or an energizing nap session (NeuroSpa) at Spa Eastman. Intrigued?
Gaspésie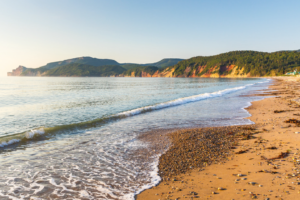 Stop at Coin-du-Banc de Barachois beach
tourisme-gaspesie.com
Most tourists pass right by on the road from Percé to Gaspé and Forillon. A shame. They're missing an exceptional 10 km of golden sandy beach with a view of the cliffs, Île Bonaventure and the famous rock.
Laval
Unique, high-adrenaline expériences
tourismelaval.com, 1 877 465-2825
Rain in the forecast? Great! Time for a trip to Laval to stock up on a few unforgettable experiences. How about taking the wheel of a flight simulator at Aerosim Experience? Or learning about the circus arts at Trapèze Le Voltigeur? And why not try indoor climbing? Of course, you can also fly at SkyVenture. And, as a bonus, Laval has no shortage of good restaurants to celebrate conquering your fear.
Mauricie
Nature classes at the Seigneurie du Triton
seigneuriedutriton.com, 819 653-2150.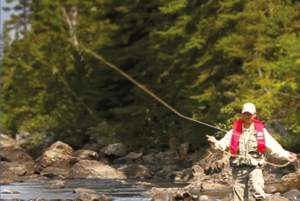 At least once in your life you must stay at the Seigneurie du Triton in Lac Édouard, an hour's drive from La Tuque. Why? Because the place is mythical! Several American presidents and even Winston Churchill stayed in this breathtaking 19th century lodge. Not only that, the food is fabulous.
You can have the unforgettable experience of speckled trout fishing with all the advantages, including the famous shore lunch, and none of the disadvantages (the fish are gutted for you). And, also, because their packages will let you check off a few items on your bucket list: introduction to fly fishing, mushroom gathering, or birdwatching, women's wildlife package, etc.
Richelieu-Yamaska
Delight the senses at Jardin Daniel A. Séguin
jardindas.ca, 450 778-0372.
Myriads of flowers in all the hues of the rainbow are wonderful medicine after over a year of lockdown. The magnificent Jardin Daniel A. Séguin, in Saint-Hyacinthe, is well worth a visit, with its 20 thematic gardens, horticultural pavilion and TechnoLab. A special program is planned for the 25th anniversary of this horticultural jewel. The season begins June 5.
Rive-Sud-Suroît
Pointe-du-Buisson – Musée québécois d'archéologie: a glimpse of times past
pointedubuisson.com, 450 429-7857
This point of land, which juts out into the St. Lawrence, was inhabited for 5,000 years by Indigenous people. Archaeological digs have been conducted there for nearly 60 years and more than 2 million objects have been discovered! This museum located in Beauharnois has a permanent paleontology exhibition, including fossils dating back 500 million years. Trails lead to dig sites, picnic areas, and unique vantage points on the river.
Saguenay
Walk the Le Fjord trail and experience the Village Vacances Petit-Saguenay
villagevacances.ca, 1 877 420-3193
sepaq.com, 1 800 665-6527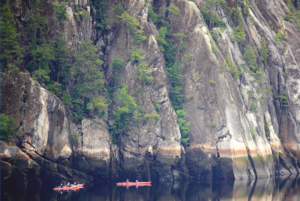 It's an easy trail, 3.6 km round-trip, in Fjord-du-Saguenay national park. It starts in the parking lot of Pisciculture de Tadoussac and ends at Anse à la Barque, with a breathtaking view of the fjord.
At the end of the day, kick back on the patio of the Casta Fjord bistro in L'Anse-de-Roche and enjoy the glorious sunset. On the other side of the fjord you'll find the equally spectacular Village Vacances Petit-Saguenay. Guided kayak rides leave from the beach. Seals and beluga whales swim right up to you when the tide brings the krill up to the surface.
Source: Magazine Virage