Did you know ?
Test bed: RV or car-hotel?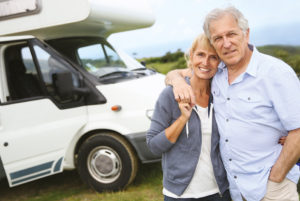 For some people, RV trips are a way of life. But is this an economical choice compared to a car-hotel or plane-car-hotel trip? It all depends.
Obviously, everyone has their preferred way to travel. And comparing two very different modes of transportation is a tall order because there are so many variables. Not only that, we have not found any independent study on the subject. Those that do exist have been commissioned by organizations dedicated to the promotion of RVs and the results are similar.
The grand winner: the tent trailer
For example, the Fédération québécoise de camping et de caravaning (FQCC) study, commissioned in 2020 from the Portage Group, analyzes five trips taken in Canada from major Canadian cities. According to this study, air travel is the most expensive mode of transportation and the tent trailer the most economical. Class C RVers save 16% compared to the car-hotel option and 41% compared to the plane-rental car-hotel option.
"RV vacations systematically cost less, but the cost varies depending on the type of vehicle," says Paul Laquerre, editor of Camping Caravaning magazine. "Cooking in your RV is cheaper than going to a restaurant, and staying at a campground is cheaper than staying in a hotel. Plus, overnight RV stops are often free."
As Laquerre sees it, the longer an RV trip lasts, the more economical it is, especially if you own your RV.
Out of curiosity, we calculated the financing of a $180,000 RV over ten years at a rate of 5.8% after a down payment of $18,000. Monthly payments would come to $1,796.91. For the purposes of this article, we have excluded this variable and the opportunity cost of purchasing an RV.
Two examples: Gaspésie tour and Western Canada
To get an accurate overview of costs, we took as examples two trips for two people, in a rented car or rented RV (Class C motorhome): a Gaspésie tour leaving from Montréal and a roundtrip excursion from Calgary to Vancouver, both in 2021.
For the rental of a 19-foot Class C RV, we used the rates provided by FQCC travel director Valérie Joubert. The Gaspésie trip requires that clients bring their own bedding and dishes. Taxes and insurances are included.
We also calculated the costs of a trip with a rented Toyota RAV4, with the help of Jesse Caron, automotive expert at CAA-Quebec. According to the Natural Resources Canada calculator, this vehicle consumes 8 litres per 100 km. We did not include insurance (usually covered by customers' personal insurance with Endorsement 27).
According to our calculations, and without detracting from the advantages of RV travel, RV travel is more expensive than the rental car/hotel formula in the Gaspésie tour, but not in Western Canada (see tables).
Naturally, the main attraction of RVs is the freedom. You can change your destination at the drop of a hat, and you can sleep in your own sheets, with no need to vacate your room by 11 o'clock.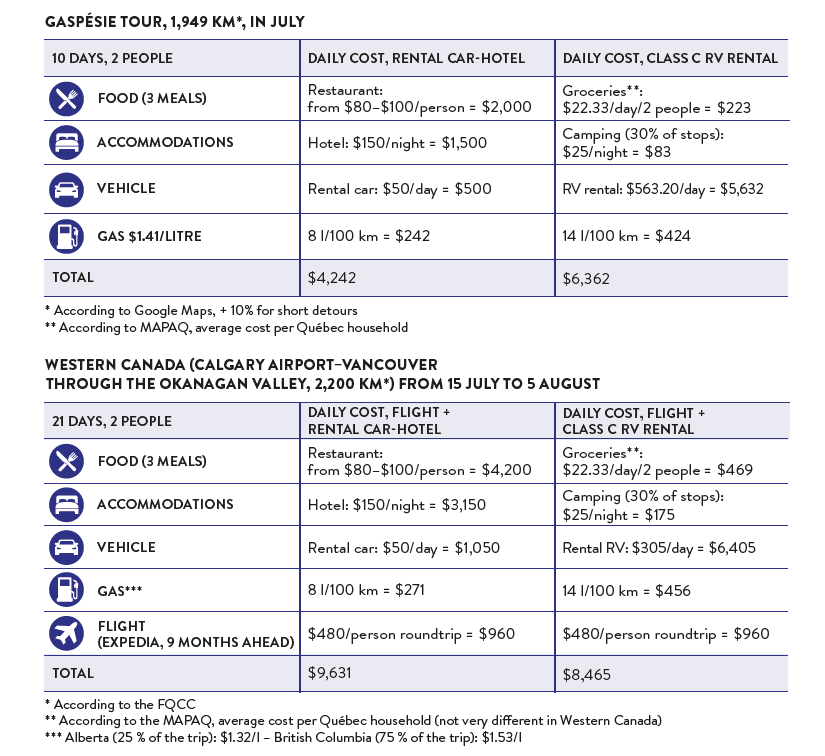 Source: Virage Magazine - Stéphane Desjardins