FADOQ members: go ahead, betray your age!
2. Céline Landry – 78
Cruising Fun
Céline Landry, 78, admits that people usually take her to be 10 or 12 years younger. The New Brunswick native believes she has maintained a youthful spirit because she loves working with the public.
For many years Céline Landry was a tour guide, working on various kinds of trips. After two years of the pandemic, she is anxious to return to what she loves doing, and awaits responses to the résumé she sent to six cruise companies.
"Cruises are really my thing," she says. "I can't wait to get back on board one of those big liners."
While waiting for the coveted call, Céline Landry keeps busy, working part time at the Port of Montréal welcoming cruise ship passengers.
"I show people where to get buses and taxis, suggest places to visit, restaurants, and so on."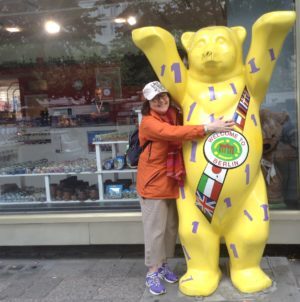 She hopes to visit Egypt soon with a friend. She would also like to visit friends in France and while there, hike a section of the Compostela route. The heat wave that hit Europe this summer, however, has somewhat dampened her enthusiasm for that project.
"I consider myself lucky to be in good health and to still be able to take long walks," says the woman who says she walks between 4 and 6 kilometers every day.