Why join FADOQ?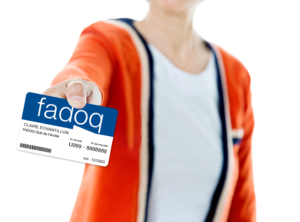 Get a ton of benefits by joining Réseau FADOQ or renewing your membership card!
Your FADOQ card means savings! Take full advantage!
You'll save big with Réseau FADOQ's partnerships. Your card gives you access to over 1,500 discounts on insurance, financial, travel, healthcare, and leisure products and services. Plus you'll receive four issues of Virage (French only) per year.
Enjoy a wide range of leisure activities with the FADOQ card
Réseau FADOQ offers leisure, sports, and cultural activities for everyone, including bicycle excursions, golf, travel, computer classes, hockey, tennis, walks, tal../activitesks, and exhibitions. It's all about maintaining an active lifestyle.
Your membership helps our cause: Quality of life
Joining FADOQ is also an act of solidarity—you'll increase Réseau FADOQ's influence and help it advocate for seniors' rights. You'll invest in quality of life for yourself and all seniors!
---
Joining FADOQ – Région Lanaudière means becoming part of a movement of 40,000 people age 50 and over across the entire region.  Our mission is to advocate for seniors' rights and develop activities and programs for all members.
By joining FADOQ, you get special rates on a wide range of outdoor, cultural, sports, and leisure activities, events such as Health Day, Salon 50+, intergenerational day, bicycle excursions, and much more. FADOQ – Région de Lanaudière oversees nearly 50 affiliated clubs that also organize activities all year long.
Our discount booklet is another great reason to join FADOQ – Région Lanaudière.  It contains tons of discounts from various businesses in the region and across the province. Whether it's auto or home insurance, travel, a new pair of glasses, a relaxing day at the spa, or your favourite leisure activity, Réseau FADOQ offers savings for everyone!
Becoming a FADOQ member is the best way to keep up to date on the activities and events available to you, whether via our website, the Info-liaison magazine, our newsletter, or the FADOQ – Région Lanaudière Facebook (French only) page.